Meet the Team
Our 1st Care Animal Health Clinic, started over sixteen years ago, serving Centinela Feed and Pet Supplies customers as well as some local organizations.  We have been steadily growing ever since! Our team consists of highly skilled, licensed veterinarians, a veterinarian advisory board, and caring, friendly, patient and knowledgeable staff. We offer a full range of high-quality vaccination options as well as prescription de-worming, micro-chipping that includes free-lifetime registration, and prescription Flea, Heartworm and Parasite prevention products. We currently offer Heartworm testing for Dogs and FeLV/FIV testing for Cats with results in 10-minutes at any clinic location; D-H-P Titer testing for Dogs is also available at any clinic with results e-mailed in a few days. In addition, we recently added some fantastic products to help maintain your pets dental health in between regular cleanings at your Vet. Ask about your options! You can rest assured when attending any of our mobile clinics that your best friend will receive the quality, loving care they deserve. We ensure this by providing a friendly, nurturing environment and only offering vaccinations and products that have your furry friend's health and wellness in mind. We will never recommend unnecessary vaccinations and follow the current guidelines published by the American Animal Hospital Association and American Association of Feline Practitioners to avoid over-vaccinating.
Veterinary Advisory Board
Dr. Karla Hopper – DVM – Managing Licensee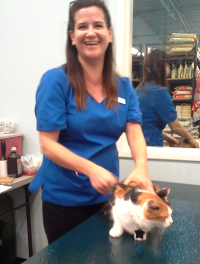 Dr. Hopper grew up in rural Lakeside, California, always with at least two dogs and numerous cats.  During high school as a 4H and FFA member she was always involved with the care and raising of animals and knew she wanted to be involved with working with animals the rest of her life.  After attending Cal Poly, San Luis Obispo for undergrad, she graduated from UC Davis Veterinary School in 1997.  She worked as a small animal veterinarian in Northern California for 5 years until moving to Europe where she worked as the veterinarian on a US Army Base in Germany and Italy for 5 years.  Since moving back to the States in 2007, she has been working with First Care Animal Health Clinics providing quality low cost vaccinations and education for pets in the Los Angeles area.  She currently lives in San Pedro with her husband, son, dog, 2 cats and numerous fish.
Dr. Laura E. Cochrane – Veterinary Advisory Board Member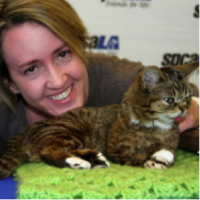 A native of Virginia, Dr. Cochrane graduated from veterinary school at Virginia Tech in 1997. After completing an internship in Small Animal Medicine and Surgery at the University of Illinois, she worked in small animal private practice for several years, eventually making her way to Los Angeles. It was here that she began to realize the need for veterinarians to get out in the community and encourage responsible pet guardianship. Working at mobile clinics around the city has been an incredibly rewarding opportunity to do this, and Dr. Cochrane is always happy to provide information on animal adoption and spay/neuter. In her spare time, she enjoys volunteering for Best Friends Animal Society, working in her vegetable garden, and hanging out with her 3 rescued cats and dogs.
Dr. Stephannie Tallent – Veterinary Advisory Board Member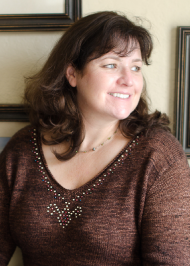 Dr. Stephannie Tallent graduated from veterinary school from Texas A&M in 1999.  Prior to that she served as a military intelligence officer after her graduation in 1989 from West Point.  A California native, she couldn't wait to be back by the beach.  She moved to the Los Angeles area immediately after graduation and has worked in the Los Angeles, Long Beach, and North Orange County areas since then, initially as an associate and then as a relief, or locum tenens, veterinarian.  She lives in Hermosa Beach with her husband Dave and cats Meggie and Cali. Besides being a vet, she's also a published author and knitting pattern designer.  She doesn't have much spare time, but enjoys beachcombing, traveling, and watching movies.
Administration and Clinic Team
Susan Postert – Clinic Supervisor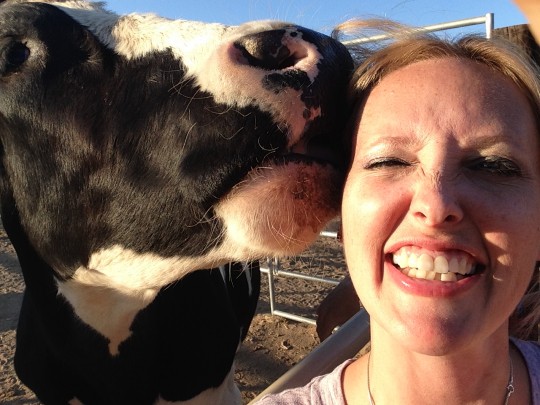 Susan has been working with the clinic since 2006 as the Clinic Supervisor and loves the pace, the variety of people and most of all the animals. Her family includes a young daughter and son,  an adopted Bulldog/Mastiff  mix "Charlotte-Tulip" and Heeler mix "Morgan Daffodil", a very lively Betta "Rocket", two  Ratties "Spike Jr." and "Speedy Jr." and a loving husband. Susan loves being outdoors, smelling the breeze and enjoying the sunshine with her spirited daughter, curious son, and canine companions. Just out of high school, Susan worked at two Veterinary Hospitals in the area and a well known luxury boarding facility. She has been an avid squirrel and duck feeder at the local parks and has been a proud parent to several animals over the years, including dogs, cats, rats, ducks, hamsters, fish and a rescued crow.  She earned her Bachelor's degree from CSULB in May of 2009, go 49ers! Susan's lifelong love will always be surrounding herself with the creatures that make our lives and hearts complete and helping to educate pet owners on what it takes to keep our four-legged family member's happy and healthy for a long enjoyable lifetime of love.
Brenna M. – Clinic Team Leader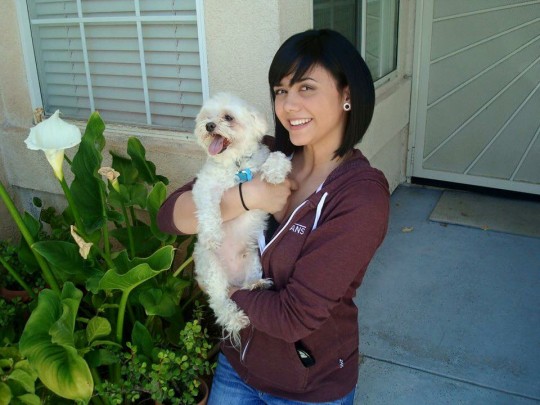 For as long as she can remember, Brenna has dreamed of turning her love for animals into a lifelong career. Some years ago, she moved to LA from the Inland Empire and began working in a premium pet food store, where she gained a vast expertise regarding nutrition and the supplies to benefit the enduring well-being of household critters. Brenna has been with the 1st Care team since 2013, and has enjoyed every bit of the work she does! She is continuously in the pursuit of knowledge and aspires to become a veterinary technician, and to one day possibly work with exotic creatures and wildlife conservation. Her "little" happy family includes three dogs, Joey, Jane and Macie, two cats, Heidi and Mango, and three leopard geckos named Elena, Wilma and Louise. In Brenna's spare time, she enjoys partaking in delicious cuisine, strolling along the beach on her cruiser, and relaxing at home with her fur babies, reading a book or catching up on her favorite shows. Come visit Brenna at a clinic, and see that she never fails to keep a smile on her face!
Jennie N. – Clinic Team Leader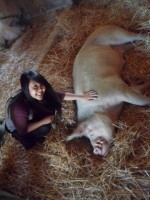 Interestingly, Jennie was not always passionate about animals. Growing up, she had never really cared for animals, nor had the opportunity to interact with them. It wasn't until her senior year of high school when Jennie adopted her first critter companions, two dwarf hamsters named Aiko and Shira, who forever changed her life. Jennie's new-found love for caring for companion animals led her to become aware of society's mistreatment of other non-human beings that further pushed her to become an advocate for animal rights. After graduating from high school, Jennie went on to attend college at California State University, Long Beach, but was unsure of which career path to take. After switching from a Studio Art to a Biology major, Jennie realized that she wanted nothing more than to make working with animals her lifelong career. Over the past couple of years, Jennie has strived to complete her degree while also continuing to be an ally for animals by joining different animal rights organizations, volunteering at animal shelters, and by fostering stray and feral animals that happen to come into her life. In 2013, Jennie officially joined the 1st Care team, and loves every bit of what she does. She enjoys the quick pace of her environment, privilege to be able to assist multiple veterinarians, and pleasure of getting to see the many goofy and furry faces that inhabit the Southern California area. With the recent completion of her undergraduate degree, Jennie hopes to move on to veterinary school, and is grateful that 1st Care provides her with the general knowledge and skills that will help prepare her for what's in store. In Jennie's free time, she enjoys seeing her favorite artists in concert, eating and making delicious vegan food, exploring the beautiful outdoors, and being at home with her pup, Sydney.


 Blair B. – Clinic Team Member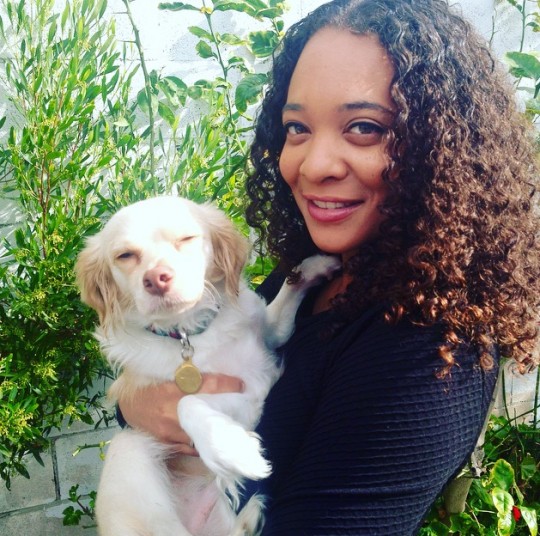 Blair has always had compassion for all animals. Growing up, her and her mother would rescue kittens from the neighborhood and make sure that they were nursed to good health. At a young age Blair learned the importance of spaying and neutering and worked with local shelters to get neighborhood cats fixed. Growing up with cats, dogs, fish, and reptiles fueled Blair's desire to work with animals. Since then, Blair has worked with a variety of shelters fostering dogs and cats until they find their forever home. As a matter of fact, one of these foster pups ended up getting his forever home with Blair. At 1st Care she puts all her experience with animals and is passionate about growing in the animal care field. In her spare time, Blair works as a neighborhood dog walker and loves trying out the newest restaurants in town.