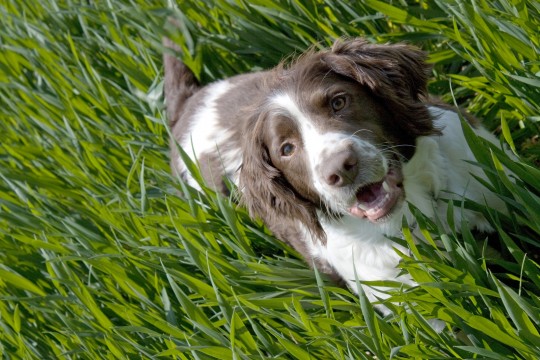 A friend of mine just got a puppy and she was asking me if I knew any good dog parks in LA, so I thought id share it with the rest of you! Like most things in Los Angeles, there are certain places that are "hot." Here are a few of the parks that I really like.
Barrington Dog Park, 333 S Barrington Ave. Los Angeles, CA 90049
This is without a doubt my favorite park, there's a Starbucks nearby (a must for me) and the view is amazing! Big wide open space, never seems to be too crowded or noisy, if you haven't been here yet you should definitely check it out.
Redondo Beach Dog Park, 300 Flagler Ln. Redondo Beach, CA 90278
Another great park for those of you that live a little farther south. Big open space for dogs to play, but there are also separate areas for large and small dogs.
Airport Park, 3201 Airport Ave. Santa Monica, CA 90405
This is a super cool dog park, turns out there is lots of fun stuff to do in this area (aside from cutting through airport drive to avoid traffic)! The one down side is that all dogs require Santa Monica permits. Surprisingly, parking is really easy here, that's an added +.
Runyon Canyon Dog Park, 2001 N Fuller Ave. Hollywood, CA 90046
Now this wouldn't be a "LA Hot List" without mentioning Runyon Canyon. It's a bit of a pain to get here depending on where you are coming from, and it can get a little crowded, but if you want a fantastic view of the city this is the place to go. Runyon is also a pretty fun place to people watch. 
The Bone yard, Jefferson& Duquesne, Culver City, CA 90232
Culver City is on the rise! I've gone here a few times, its an awesome off leash dog park. There are lots of new cool stores and cafes opening up, so it's a fun place to walk around after.
Laurel Canyon Dog Park, 8260 Mulholland Dr. Studio City, CA 90046
Now I don't venture out to the valley very often, so I had to enlist the help of a couple friends I know for the next 2 recommendations. This is a really nice large park, with separate areas for large and small dogs. One thing to note is it can get particularly busy.
Sepulveda Basin Off-Leash Dog Park, 17494 Victory Blvd. Encino, CA 91436
Super clean, and super spacious, what more could you ask for in a dog park? Parking is very easy, and apparently this park is so nice that people, who don't necessarily live in the area, drive out to go here. I think this will be my next stop, so I can see what all the excitement is about!
There are tons of options for you and your dog to have fun outdoors! Check out some of these parks, and let me know what you think? Do you disagree with any of my recommendations, or maybe you know of an awesome place that I don't have listed? Let us know!
Till next time, have fun and play safe 